Fascinating Decoration People are always looking for the ways through which they can provide a look to the house, the best way to do this task is by maintaining your home garden best. A good garden can provide you with peace of mind, brings nature close to you and also add a meaning to life. A sense of spirituality is provided to us by the good house garden, the decoration and designing in the home garden is quite an important thing. Through ideas and a bit of creativity you can decorate your house garden best; here are 15 best garden decorating ideas through which you can make it fascinating:

Mostly when it comes to the home garden, we place pots in the house, but hanging the plants this way that you can see in the below picture is a whole new idea that every one of us should must try. Plants are hanged along with lights which are making the atmosphere lovelier, give this idea and try and see how it can make your house a fascinating place.
In this picture you can see a big leaf that is pointing upward, this leaf is made by wooden material and on the front of it beautiful purple flowers has been placed, you can choose to go for any other flowers as well, try placing sunflowers on it to make a difference.
We usually see butterflies over the flowers in the gardens; keeping that thing in mind this metallic decoration has been made. You can see a big sized butterfly in the picture with a lot of plant pots; this is another wonderful idea to make the house garden just ravishing.
This is a pretty decoration idea that I would recommend everyone to try; you can see a lot of plants in the picture which makes this idea just perfect for the plant lovers. Flowers and plants create a quite beautiful effect wherever they have been placed, so use loads of them in your house.
Do you know that out of bricks and cement, you can make pretty and beautiful glass holders? The plant holders that you can see in the picture below in gray and yellow are made up of bricks and cement. You can make loads of them as bricks are easily available in every house and it looks wonderful, so start making these holders now and place them anywhere in the house.
The best thing about plant pots is that they can be placed anywhere and wherever they can place, they look just adorable and quite fascinating too. In the picture, you can see pots with plants along with their tag, you can do the same in your house garden to create a magical effect.
On yellow color paint a metallic stand is placed and plants pots are hanged over it to make the place look best, you can also hang plants the same way in the home garden. Do all the things that can make your garden appear lovely, do everything that you seem is best and check how good you will be feeling.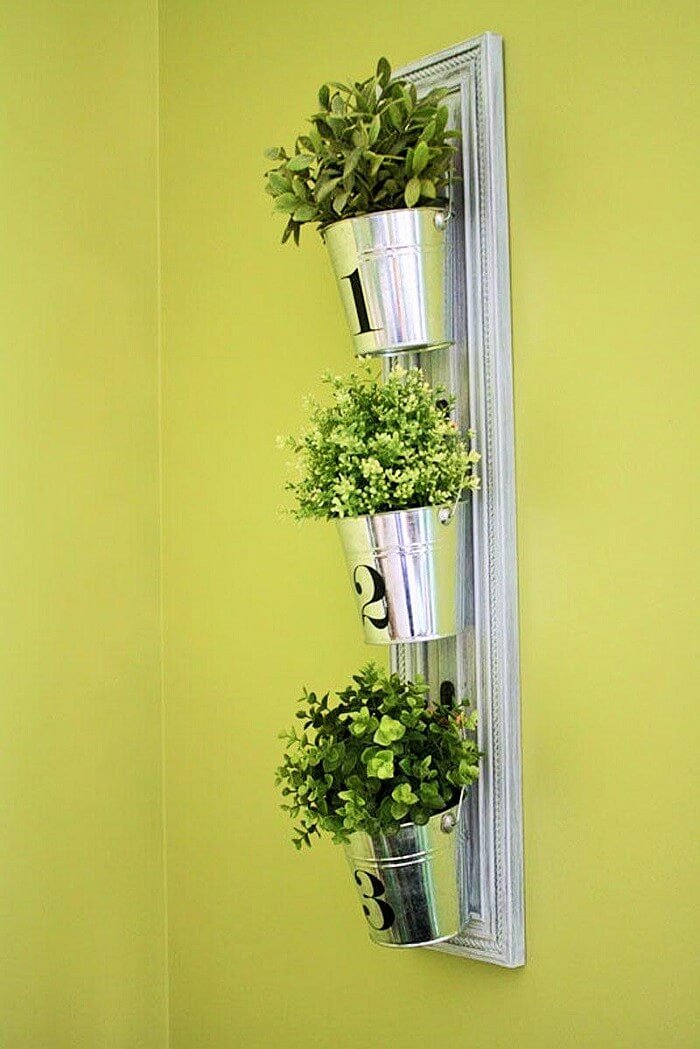 You can use any sort of stuff to be placed in the garden with plants, but all you have to make sure is, whatever you will place should look best. The wooden boxes in the picture below contains flowers and plants of different kinds and that's how you can make your garden fascinating by placing loads of plants and flowers in it.
Plants pots are available in all the sizes and you can use them anyway you want, in the below picture plants are placed in one another and they have plants too. A bigger plant on the lower part and then medium to small at the top so that plants will also feel comfortable, you can make design on plant pots as well with the paints.
If you are one of those people who loves to decorate the garden and to make the house look classy as well, then all such ideas are for individuals like you, see the below picture and also grab the idea that how plants are placed in these baskets. These baskets are hanged using threads which is making the idea unique.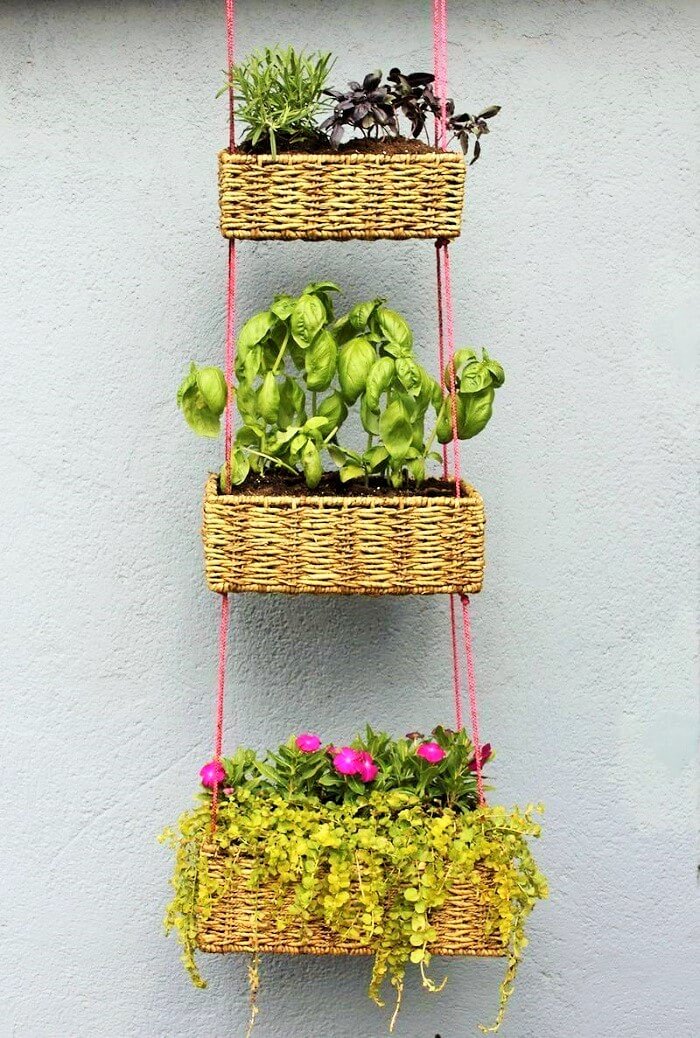 In this picture, you can see loads of plant holders in different colors, the covers that are placed on the plant holders are made with knitting. Different colors are used to knitting and the covers are looking quite wonderful, due to the multi color effect the picture is looking too eye catching. Try this idea and place holders in different colors in your garden.
Using the wood, you can make your house garden look perfect. A lot of times the house gardens are decorated using the wooden material, see the picture below how wood is used to make the house garden look just fascinating. You can do much more with the wood, so just try making something wonderful for your garden.
Created & Shared by: Rústico Arte En Palets
Now this is another wooden stand and it seems that it has been made out of the wooden palette, flowers are being placed in the stand so that the garden could look more marvelous. A good house garden is all what you need to have a happy life, so try all the ideas and make your home a heaven full of plants and flowers.
Carts can also play the role of a decorative item, in the below picture a cart has been made full of plants, flowers and pumpkin can also been seen as well. Take out the cart, if you have one and then decorate it in the best way you can, place it in the garden so that a perfect look in the garden can be made.
Plants can be placed anywhere using different ideas, plants are necessary in every house because they create the best effect. Here you can see a metallic holder with a plant inside it and it is looking marvelous, you can place loads of pots as well as a single one.