Colorful Ideas For Your Bedroom
Would you love waking up in a bedroom that looks great? Everyone would love to, but for such bedroom you should have the best designing taste. People usually go for dull bedrooms and then when they look at colored places they fall for them so why don't you try colors in your own bedroom so that you can make it a place you love. If you have the desire of having a bedroom that is full of colors and textures, then choosing the right colors are very important. Go for soft shades and calming effects, so that you can have the best bedroom because the décor and the colors of the bedroom really maters. Here are some ideas for you:
You know turquoise color is known best for its calming effects, have you ever thought of a bedroom in turquoise color. Most of the people do not, but trying it is actually worth it as you can see in the picture below to have the best idea that how would it look.
You can go for any color when it comes to the bedroom but make sure that the shade is not too bright that it hurts the eyes or whenever you look at it, it makes your head ache. A little bit of maroon can make your bedroom stylish as well as eye catching.
The shade yellow is known best for bringing light to the room, yellow is a bright color so when you apply it on the walls of the room, it brings light to the  room naturally. It looks excellent and it has best effects, see the picture so that you can have an idea how would it look.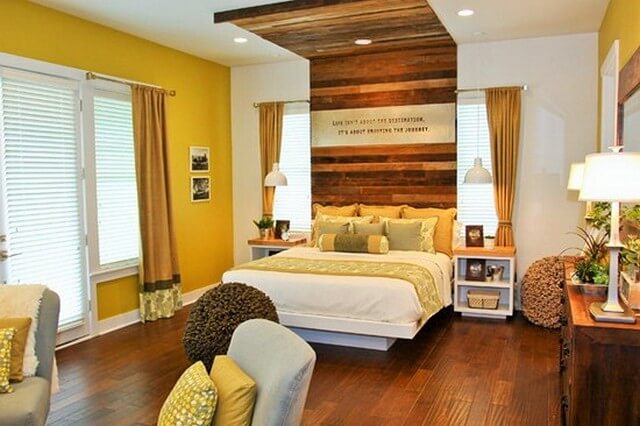 A cozy and romantic room is something that all of us would love to have, a room with plants, lamps and cozy blankets can provide us with all the comfort of the world. Combo of colors can add life to the room; see an amazing room in the picture below.
A room with amazing scenery is all that can change our mood, the combination of black and pink is evergreen all of us already know that. See the picture and check out that how the scenery is complementing the whole room, maroon comfy pillows and a white bed sheet can make your room a heaven.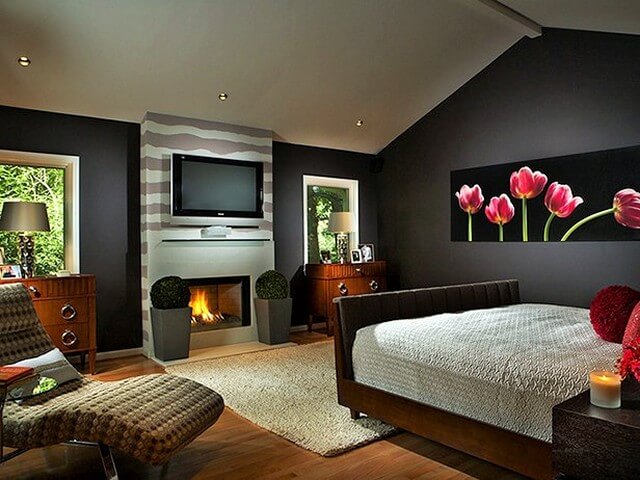 How about a light and a bright room? I think it would be the best, add mint green with white and see how calming effect both of these soft colors can create. A bedroom should have all the comfort of the world for you in one place so make it like that by choosing the right colors and objects for you.
Are you a fan of tropical look, if yes, then don't wait and apply this look to the master bedroom of yours. Why wait when you can do it right now, white is the most calming color than anyone can choose for the wall paints and the bed sheets. See the picture below.
Sometimes a luxurious and a master bedroom is all what we need, nothing can make you feel better than a best bedroom. A bedroom is the most used space of the home so it should be the best; make it unique so that you would love spending your time in it.
Yellow and orange both are good colors, but sadly when it comes to the bedroom, no one ever chooses these colors even when used in the best way they can change the whole look of the room, below in the picture you can see a marvelous room that anyone would love to have.