In our childhood, we have always seen our grandmother crocheting and making different things from us like sweaters, purses and socks etc. But we have never thought of making anything by ourselves ever, because we have always thought that crocheting is hard. In fact, it's not, but only if you are interested in it. Using crochet hooks and threads you can make many amazing things, there are many types of crocheting. Once you get to know the tricks and techniques you can make any thing by once looking at, here are some of the best crocheting ideas for you to get started:
An event is coming up on which you want your princess to look the beautiful of all, make her frock yourself. Choose the best colors and then start crocheting. You can use different shades of the same color to provide the dress with a lavish look, check out the picture for idea.
From crocheting you can make anything that you want from purses to invitation cards and mobile pouches as well. See the picture, how nice both white and black pouches are looking, plus the look of a multi color invitation card that's just adorable. Try making one for you, you are going to love it.
Besides the best mobile pouches, you can make a tab cover by crocheting as well. The colors you will go for can be any; you can use a lot of colors at a single thing as well. But if you don't like multi colors then you can go for a single color. You can use the color as same as the dress you wear.
By crocheting you can make a wallet as well, a wallet should always be of light colors so that you can use it with different clothes. Do not for colors like red and orange etc because you cannot hold such colors with all the clothes. Make design on the wallet and rock the party.
Your little one is growing up and you want something for her in which she would look different and prettier than all the kids around her, go for crocheting. For girls, pink color dresses are the best, but if you want to make a combination then go for white with pink and make her look like a Barbie doll.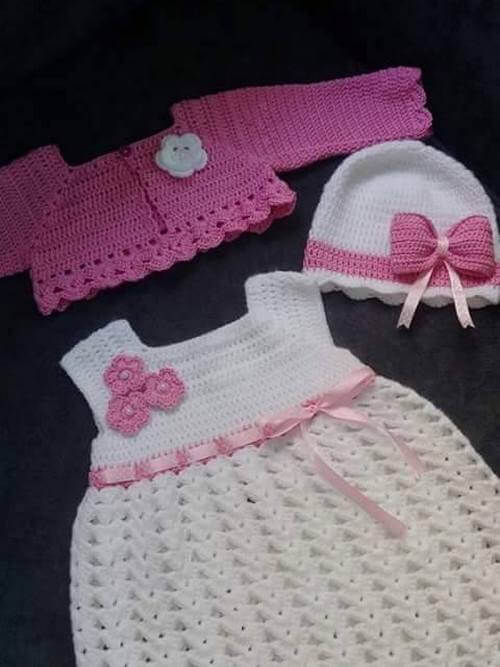 You have made the frock from the crochet but you have some threads left? Use them, as you can make matching shoes with the frock for a complete look. Don't go for buying shoes when you can make them yourself by crocheting. Place bows on both of the shoes and see, it would look best.
Source
You liked the idea of making a frock and the shoes but you don't like pink, don't worry you can go for other colors like purple as well. You can make a set of a frock, shoes and cap. Besides this, you can make a head band for your little princess as well; you can see a doll wearing crocheted dress in the picture below.
Source
Winters are coming and you are looking for something that can make you feel cozy in the cold winter nights? Make a bed sheet on your own by crocheting. Choose all the warm colors and start making it. Nothing can be cozier than a bed sheet that has been from warm threads.

Source