Do you have a desire to have a stunning outdoor space?
Craft Ideas, But your outdoor area is too small, do you think that it is impossible to make it look good. No, it's not impossible, having the best ideas you can do anything. Use pots, flowers, and plants with a different color scheme so that you can trick any eyes that look at it, a colorful garden is the best refreshment place for the mind and the eyes. If you have a small garden and you are looking for the best ideas to decorate it, then look no further because here all the best ideas for you:
Do you know that you can make your own art in your garden by using pebbles?
Even if your garden is small in size you can still decorate it with pebbles? For a colorful look, you can color the pebbles with paint colors. Pebbles have different sizes and all of them look cute.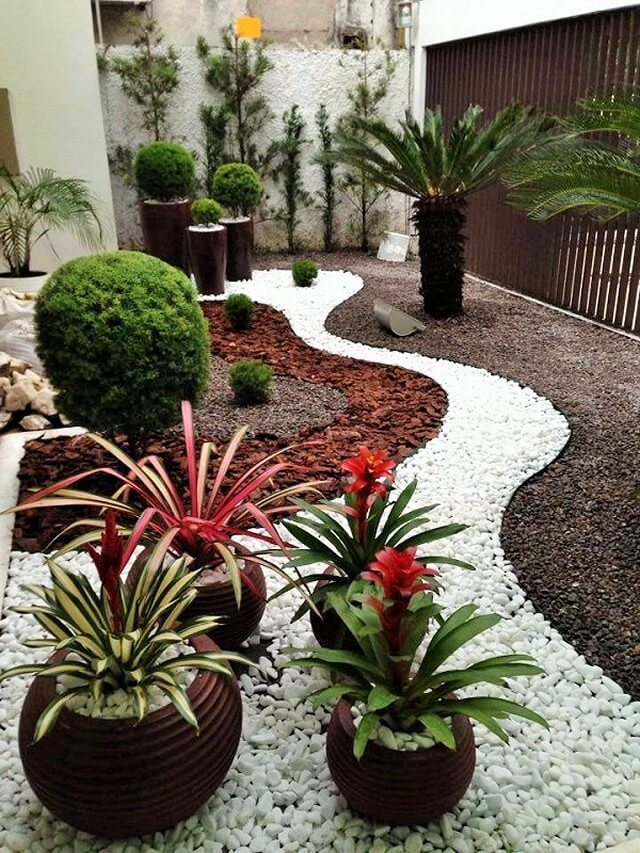 Pebbles can be simply sprinkled in the garden, pebbles with plants and flowers around them provide the garden with a nice look.  Place wooden blocks with a gap in them and fill these gaps with pebbles. Pebbles give a great sound when stepped on them, see the picture below.
People with small garden usually face a lot of issues while decorating them because they cannot place anything in the garden they want to. When it comes to this issue, then pebbles are the best for decorating the garden because pebbles do not cover a lot of space and looks great as well.
Pebbles are available in different colors, the white color pebbles look just like ice so if you are an ice lover then white color pebbles are best for your garden. Using these, you can make up an image of ice and can feel the coolness whenever you look at it.
When it comes to the garden decoration, then the one and excellent thing that you can place in it is the flower vases and pots because the garden is nothing if it has no greenery in it. Greenery can make the mind fresh and can refresh your mood within seconds.
If you are fond of creative ideas and design and love to decorate your house, then take a start from the garden of your house because it is the first place that people notice whenever they enters the house. See the picture below that how you can decorate the garden with pebbles.
Want a luxurious entry to the garden of your house, no problem because without getting out of budget you can make an amazing entrance with the pebbles. See in the picture that how uniquely pebbles are used to make the way to the chairs and how plants are placed around.
Pebbles are the love of your life? Then use them in your garden, because your garden belongs to you and you can do anything in it to make it look the best. Make different shapes and fill them with pebbles, you can use different colors to make it unique and eye catching.
Pebbles have no limits to be used, you can use them anywhere. Around, under, between and beneath plants, all you need is a mind that can think where they will look best. In the picture pebbles and plants are looking great; you can also do this in your garden.
Date trees are an awesome looking plant, their height and leaves make them different from all the other plants. Plants look best whether you place them inside or somewhere outside, they do not look good only, but they are great for the health as well. Plants make breathing easy, what else would be more important than that.
Can you imagine how the combination of colorful plants and pebbles would look; check out the picture below to see that how both would look together. Amazing, just amazing so try this idea for decorating your garden no matter if it's small in size, this is the best thing to do.
Pebbles are hard, when you hold them in your hand; they just feel like a rock or a marble. So if you have marble tiles in your home, then place pebbles beside them to make combinations that can give the eyes which look at them with amazing and excellent look.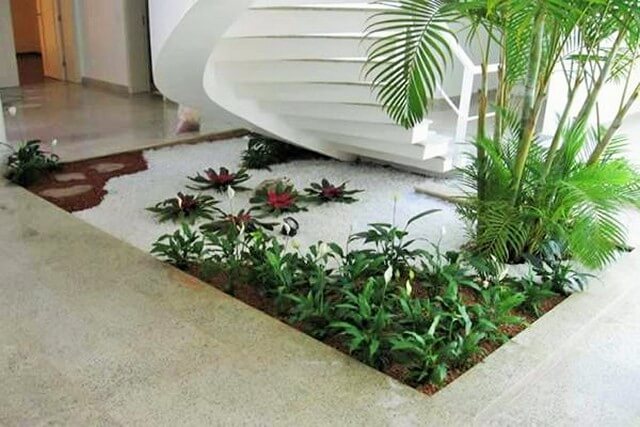 No matter what the size of the garden is, it just needs to be decorated marvelously because it is all that matters. Some people have big gardens, but they are not maintained so they don't look good. While some have small but they look amazing because of the best design.
If you don't want to use a lot of pebbles, then think for the best idea to use less of them. Using them is not necessary, but when used in the garden they look best so it's best if you use. See the picture that how pebbles are used to decorate the corner and its look really nice.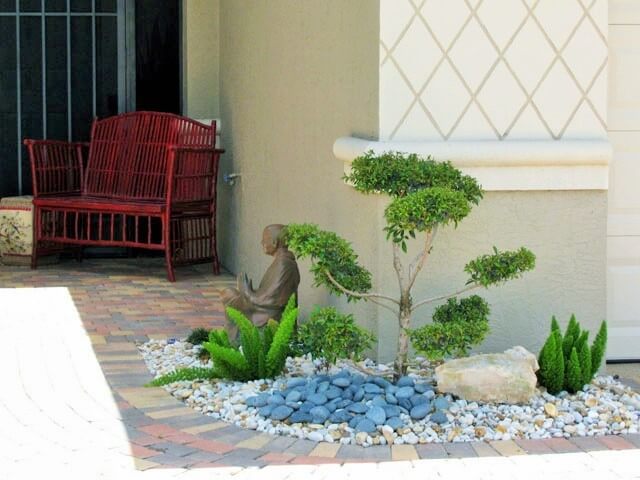 Have you ever thought of placing a wooden block in the middle of a lot of pebbles. See the picture to have an idea that how classy that can look? This is one of the most creative ideas to use wooden blocks and pebbles in the garden of your home.
Pebbles have a lot of sizes and colors, so if you think that using the same small pebbles is now an old-style then go for the bigger ones. They look like diamonds and obviously best when used in the garden. The uniquely decorated garden is the best place to relax.
Pebbles with amazing lighting around them and some flowers, nothing can be more calming than such a garden. For a good life and peace of mind, such an environment is best so that you can relax here. Every day for some minutes on a daily basis to have a refreshed and peaceful life.
Looking for the best gardening ideas with pebbles, but you have a small garden, don't worry. In the picture below you can see an amazingly designed garden with very limited space. Plants and pebbles, both are the best parts of any garden so don't wait; get plants and pebbles for your garden now.