DIY-Creative Pallet Projects
People often think about a pallet as a useless thing, but if the pallet is used in the right way and you are creative enough then you can do wonders with it. Do you know that with a pallet, you can make different things like tables, book rack, shoe racks and decoration pieces as well. Sometimes buying new products are too expensive for us, why to get out of budget by buying such things when you can make them by your own self with pallets. If you are getting bored right now then recycle a wooden pallet and make amazing things out of it, here are some amazing ideas for you:
Do you know what amazing things can be made by a wooden pallet? You can make a dressing table by using the pallet woods and then place mirrors on them; trust me that no dressing table would look cuter than the one that you can make by yourself with a pallet.
Source
How about making a coffee table or a farm table by joining the pieces of a pallet and then painting it, making the table is fun and when you know that you can paint it in any color you like then making a table is actually worth it, see the picture for best ideas.
When it comes to recycling the pallet or making things by thinking from your own mind, then there are no bounds. See the picture below that how nice the side table and the sofa made from the pallet is looking. Placing such things can increase the charm of any room.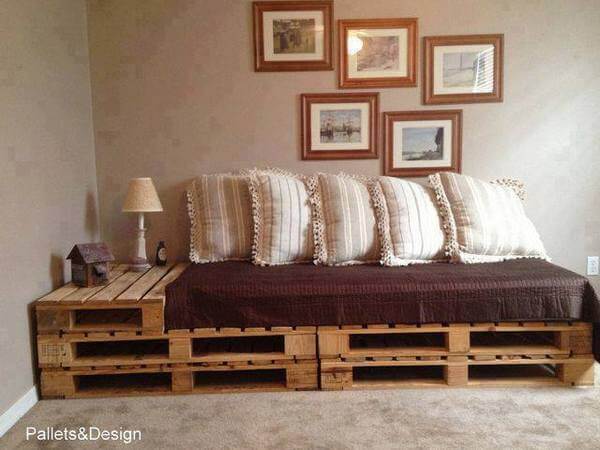 You can make anything by recycling the pallets, from a sofa to a bed and a side table to a book table. There are no bounds or limitations, make anything you want and place things around it to enhance the looks even more. See the picture and make something that can be used for different purposes like as a sofa and as a bed both.
Different things can be made at home also, all you need is passion. Making things is fun; trust me as when people create anything for the first time, they want to do it again and again. Recycle all the pallets you have and paint them, you will feel joyful, give it a try.
Love flowers? So make something from the pallet for your love of flowers and place them in an innovative way. Look at the picture below that how a pallet can be used for placing flowers. Cut off the idea of a plant pot and make something unique now.
With pallets you can make stuff for placing outdoor as well, make a chair with the wooden pallets and place it inside the lawn. Paint it in any bright color so that the rays of the sun would make it lovelier when they would fall on it, check out the picture below so that you can get lovely ideas. Enjoy making objects and stuffs because it's fun.
Source