20 Decorating Ideas For An Astounding Kitchen
Decorating the house is fun until you have an idea that you are not going to spend any money on it, but when it comes to spending the money then it's no more fun. Decorating the house needs a lot of money is not true, you can decorate your home best even if you are a very limited budget. When we talk about a perfect home, then everything and every room matters, every area should be decorated as best as it can be. Most of the times, people neglect their kitchen and washrooms, when this is truly wrong as they also need to be decorated best for a perfect home. So here are 20 Decorating Ideas for an Astounding Kitchen:
Choosing color combinations for the kitchen is real fun, if you chose a good one, then it means you are transforming the whole look all at once. See the below picture has an amazing combination of pink with gray and how the things have been arranged is just flawless.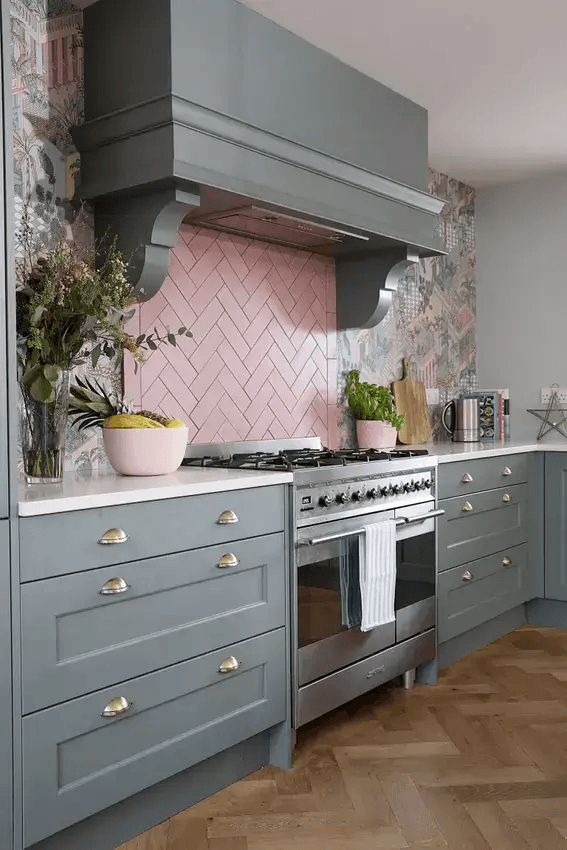 Everything counts and everything matters, from the flooring to the walls. In this picture you can see the floor has a color combination of white and gray and the whole room has been decorated with the same color combinations, some simple decorative items have been placed and it has just an amazing look.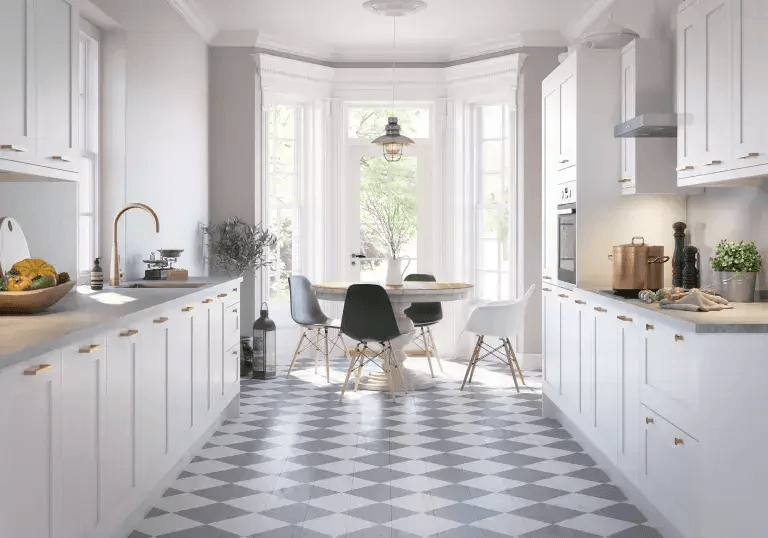 You can place anything in the kitchen as long as it is looking best, the below picture has decorative items on the walls, vases with flowers, and some other kitchen accessories placed on the table. The kitchen has golden chairs with silver, you can also pair up silver chairs here as well.
In the kitchen, numerous items can be placed and they look just perfect, but all you need to take care of is the placement. You can go for decorative items, sceneries, and much more, you can also place a dining table in the kitchen and it will look just perfect.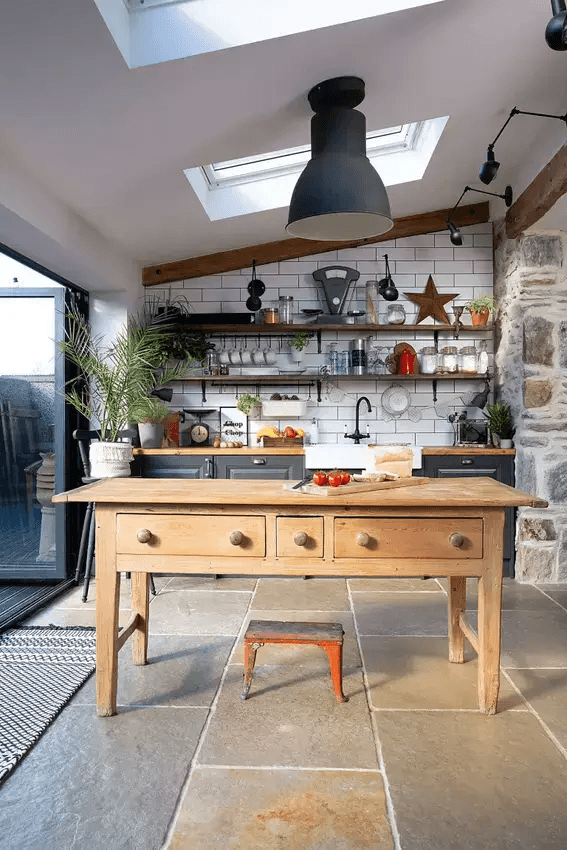 The furniture you chose for your kitchen can also be colored, see the combination of maroon and black and besides that also see the table which is in white and black but still how the items have been used it is looking just perfect. All the classy 20 Decorating Ideas for an Astounding Kitchen are here for you.
Showcases were used in the past times, although they are coming back in fashion. See the below picture, how amazing this showcase is looking. Besides the showcase, you can also see plants and a dining table with stools, this is the perfect way to decorate your kitchen.
A well-decorated kitchen has more worth than a living room, in the below picture you can see a quite classy kitchen. Bags have been placed, sceneries have been used and besides that kitchen utensils are also placed in a great way, see the curtains too as you can also have them this way.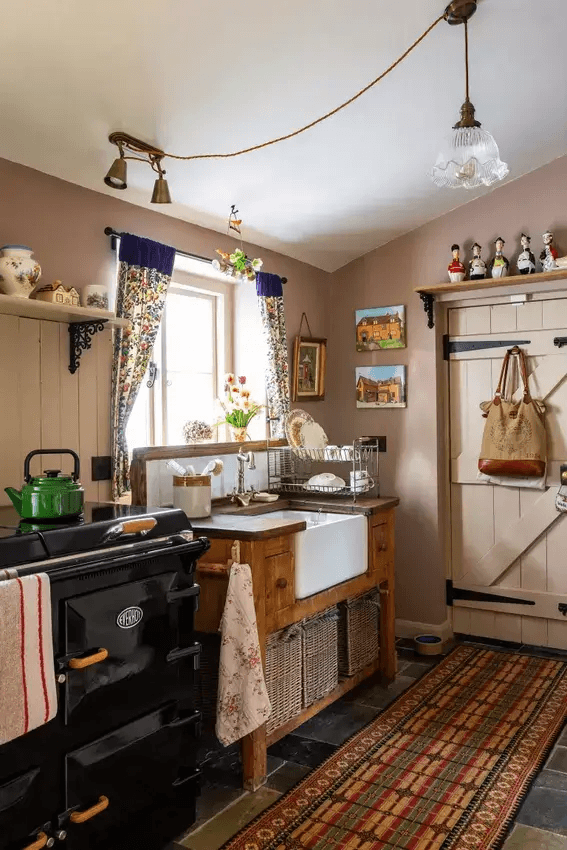 A dining table in the kitchen can enhance its look the way nothing else can, the kitchen in the below picture has the color combination of brown and gray and it's looking really classy as well as different. 20 Decorating Ideas for an Astounding Kitchen are here, try them, and have an amazing looking kitchen.
Gray looks best in the kitchen no matter what, if you are fond of gray then use it in the whole kitchen but if you don't like gray too much then you can also limit it by using and making combinations with other colors, place items to decorate it best and see how it will just have an eye-catching look.
White and black is a forever color combination, there is nobody in the world who do not love white and black. If you are someone with love for this color combination then use it in the home and see how flawless it would look, this is also perfect for the kitchen so don't wait and rock your kitchen with it.
To enhance the look of your kitchen and decorate it best, you can also take help from the racks and stands as they can do it best. You can see the decorative items in the below picture and you can also see that how they have been placed to get an idea that what you can do to make your kitchen an eye-catching one.
For decorating the home, using unique ideas and items is the best way. In the below picture, you can see quite unique stools and they are looking just too cute, use items like this for a flawless look. Looking for kitchen decoration ideas? 20 Decorating Ideas for an Astounding Kitchen are here for you.
Different colors can also rock, in the below picture you can see mint green in a very light shade. This is an amazing kitchen, very simple, but also has a very nice look. Decorating the kitchen this way is very easy, if you love light tones then consider this for your kitchen.
Now this is all gray, you can see shades of gray and you can also see how this kitchen is rocking. See the idea of lighting which is just marvelous, if you are fond of lighting then this is the best thing that you can do in your kitchen.
As I have mentioned above, lighting can enhance the look of any place and transform it into something very different. If you have a kitchen with a lot of space, then go for a dining table, decorative items, and loads of lights and see how it will look, just marvelous and outstanding.
Now, this is a truly different, but an outstanding idea, see the pop of colors in the below picture. You can see a kitchen, all blue, and also see the accessories used in the kitchen to enhances its look because the way the below kitchen is just outstanding.
If you think that only light tones go best with the kitchen, then you are wrong as funky colors also look amazing, see the below picture to get an idea.