Furniture Ideas That You Can Try With Pallet
Some people consider palettes as a useless piece of wood, while the ones who are creative always take them as something from which they can make a lot of things. Making things from the wooden palette is a fun task, you can make sofas from the palette in a very innovative way, you can make stylish chairs, trunks and a lot more. You can try making anything that comes up in the mind, all you need is a hammer and some nails and you will rock with the wood, trust me. Here are some amazing wooden furniture ideas that you can make from the palette:
We have always seen people making chairs and sofas but you here you can see the combination of both in these beach chairs, you can lay on them and can sit on them as well. Making of this chair needs no special effort as you just have to adjust the woods and stick them together.
From the wooden palette, you can make this simple square table as well, for the making of this you need the palette woods and some nails, stick the wooden pieces and join them strongly with the nails, that's all. You can see how reliable it is and how good it is looking, this table can be used for a lot of purposes.
You can make awesome benches with the wooden palette as well, these benches can be placed anywhere in the house. You can place them in the garden of the house or at any outdoor area. You can place them for the sitting of the guests and you can use them for personal use as well.
From the wooden palette, you can make a stylish wooden rack for plants as well as you can see in the picture below. In this rack, you can place the flowers you like; you can place roses, sunflowers and lilies etc. to make the house look beautiful, make anything that you can from these wooden pallets.
You can make such amazing tables and sitting objects from the wooden pallets as well, palettes are easily available so rather than buying the same objects from the markets in expensive rates, make them from the palette for free and see what at creativity level you are.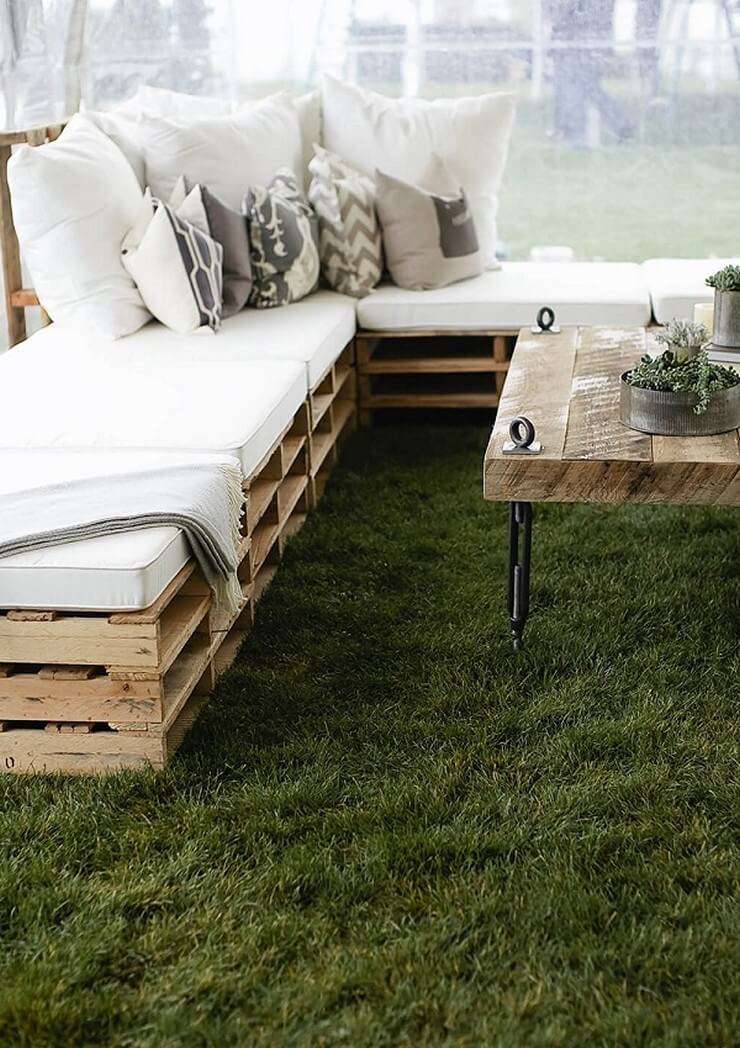 We often find no place to sit when there is any event in the house that we arrange, in such times such stools that are made from the wooden palette are the best thing. You can see perfect printed cushion at the top of the stool so that while sitting on them you feel comfortable.
Can you see the tag that says frosty beverages, looking at that you want just to grab one? If you are a lover of cold drinks then this is the best thing for you to make, make a cooler yourself from the wooden palette and see how great it would work.
Here in the picture you can see a sitting space that says I love sea, make items on which you can sit and that you can take with you anywhere and it is the best. You can make such items yourself, making such things will satisfy you that have you made something really amazing.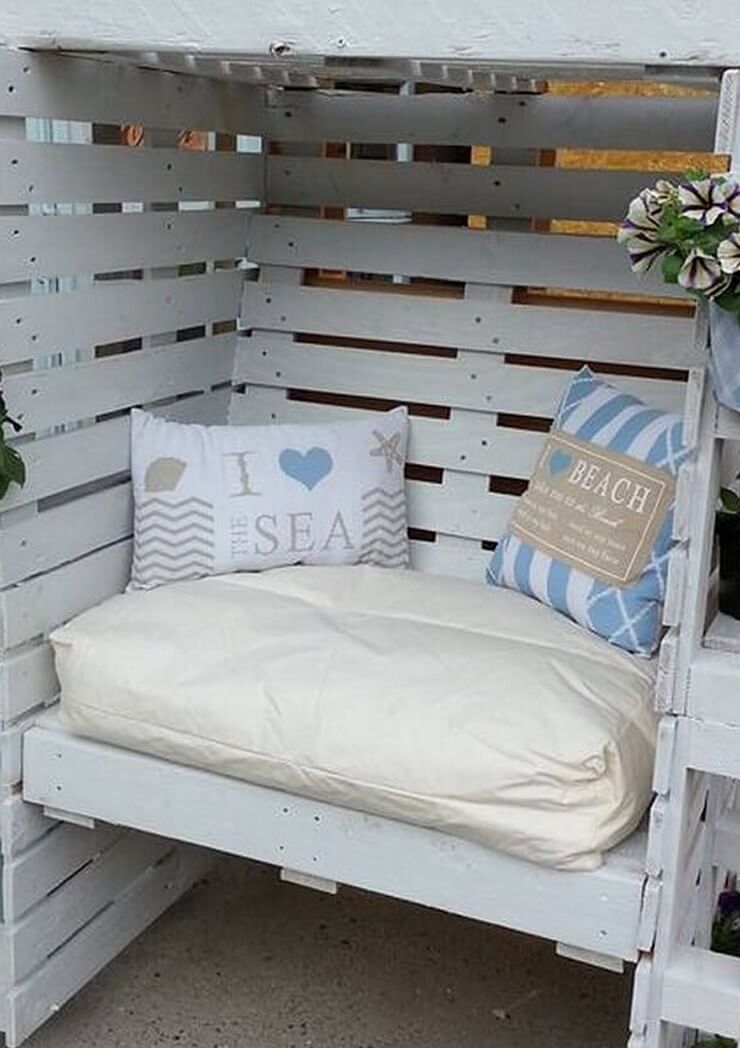 If you are a fan of decorating the outdoor area of the house, then look at this picture. You can see that how amazing the wooden seating space is looking, on the pebbles the grace of the sofa has been enhanced even more. You can see amazing lighting and the chairs, make it yourself so that you can enjoy sitting outdoor.
Can you see this table with chairs attached to it, you can use this for serving the guests and you can also use this as a study table? Make it with the wooden pallets because you can, when you can make such amazing stuff yourself then why to but it from the furniture shops.
This is another amazing sofa that you can see in the picture, the mattress and the cushions have enhanced the look of the sofa. Isn't not really a perfect sofa to place on the living room or the lounge of the house, if yes then start making it now.
Here in the picture, you can see a sofa with a lot of colored cushions on it. This sofa is looking really cool, you won't believe that this sofas has also been made with the wooden pallets. Make this cool sofa and place anywhere in the house that you want to look cool.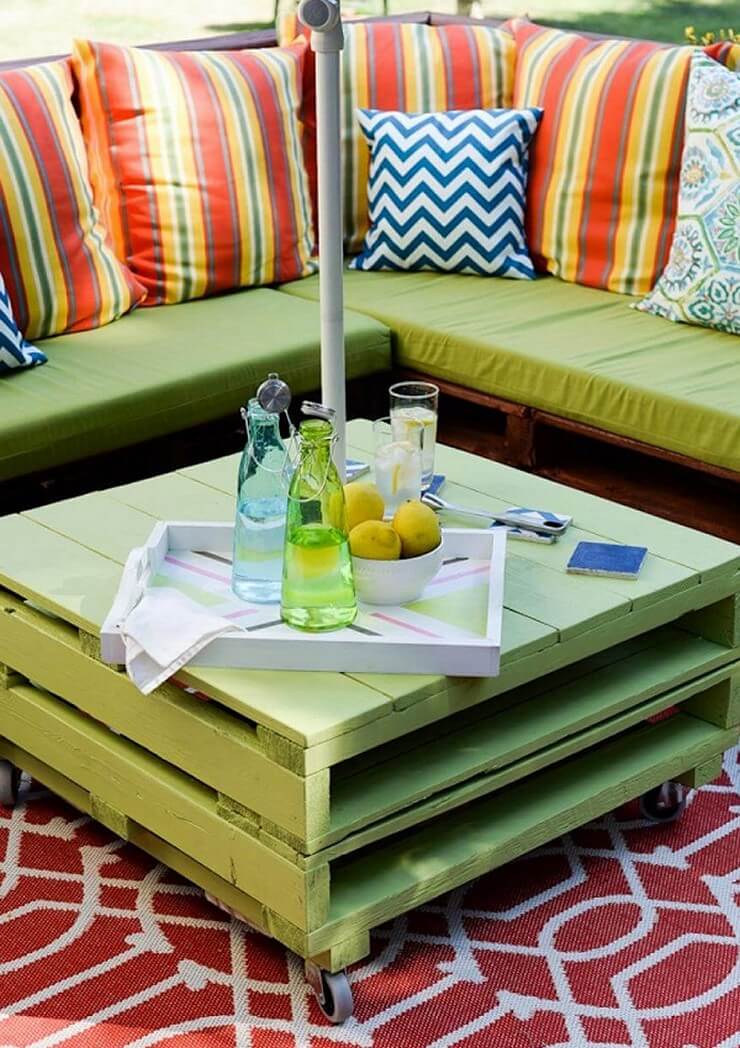 Here you can see a long bench in the picture, on the sofa a lot of blue colored cushions has been placed. You can see table as well, as this has been made from the wooden pallets, as they are made from the palette so if you have pallets then start making it now.
Rather than making the center table only, you can make several side tables as well as you can see in the picture below. Making these tables needs no special or extra effort, you can make them within some hours and it is far better than buying them for expensive rates from the market.
You can make a small sitting space from the wooden palette, from the below picture you can take some amazing ideas that how to make it, what shape it would be and what color you can paint it in. You can see a table beside the sitting object that is painted in yellow, you can make that yourself as well.
If you have extra space in your house, then utilize it, make a table and a chair and then place it at that space. Make this space worthy by making a sitting area here and decorating with vases and different amazing things. Having a space where you can stay alone and relax is the best so make these things and have a separate relaxing area like you can see in the picture.