Most of the individuals have garden in their homes, but they do not want to spend money for decorating it, the reason can be their budget or they have no ideas that how it should be done. Decorating the garden is the most interesting thing that one can do especially when it's your own, all you need is a little bit of creativity and you can make it look like heaven. For decorating the garden by yourself, you don't need a lot of things; you can even do it with stones and rocks. Here are some best ideas for you:
Most of the times we think that the rocks and stones available in the garden of our houses are useless, that's wrong as if they are utilized in the best way one can make amazing things out of them. Check out the picture and see what kind of decorations you can make with them.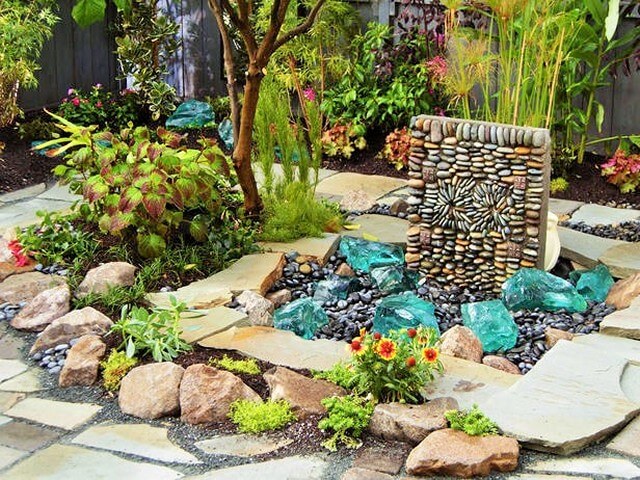 Source
Flower pots look beautiful, they can be arranged in such in a way in your garden that it seems like a city of plants. Use a lot of flower pots and arrange them uniquely, they will look best. You can check out the picture to see that how flower pots can be arranged and how would they look.
Source
A bit of purple can make your garden more eye catching, you can go for different flowers and plants for placing at the same place. Make a different place for every different plant; go for small and big plants both for the best effect.  Choose flowers with scent and amazing colors.
Source
We all have seen carts with flower pots in cartoons and animated movies, but we have never had the idea of placing such thing in our own gardens, even when we all can admit it that we have loved the carts when watched in those movies. Let's try it now because it's the best garden decoration idea.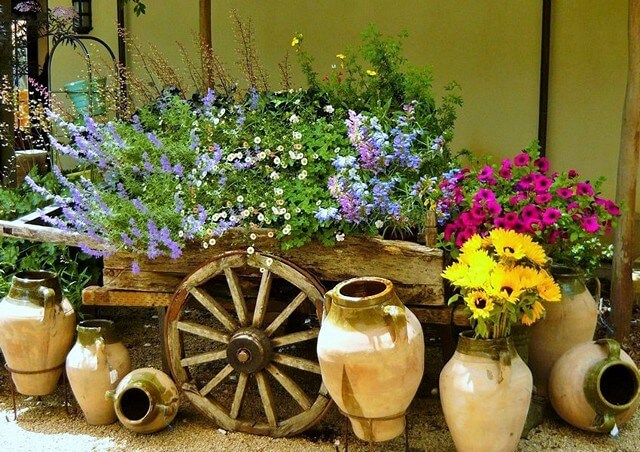 Source
We all have a bunch of extra bottles in our houses; it's the time now to utilize all of them. Make something out of them like a doorbell as you can see in the picture that how plants are placed on the bottles and what amazing look they are providing, it's looking just wonderful.
Source
Do you know what a twig ball is? And have you ever thought of placing it in your garden. I recommend you to try different things, do all those things which individuals have never done before like placing a twig ball on a metal stand and putting it in the garden.
Source
One of the best things that you can do to your harden is making an amazing entrance, the excellent way of making a unique entrance is by using wooden blocks. You can make a wonderful entrance using different sized woods, it is the best ever idea for you so give it a try.
Source
Do you have glass bottles in your home and you are looking for the best ideas that how to use them, then see the picture that how these bottles can be used. You can place them in a raw making a way and then spread rocks; it would provide the garden with an innovative look.
Source
Source
Source
Source
Source
Source
Source