Stunning Ideas For Stylish Dining Room
A dining room is a gathering place for every one of us; it's a place where we gather several times in a day. For every home, the dining table is the integral part of it. Whether it's a random start of the day or any special occasion, the family gathers here to enjoy the meals. For many families, it is the only place where they meet another having a too busy time schedule. To make any time, occasion or a party memorable, a dining table is the best place and because of that the dining area should be comfortable and stylish as well so that you can serve the guests here as well. The design of the house or the dining table must be good, because it represents a lot about you. If you have a good and a modern taste, it can be easily seen by your dining room. Whether you have a traditional or a classy room, it must be a good that whenever you have to gather here you feel good from the inside, make it one of the best rooms of your house. Here are some ideas for you as well that you can use to make the room more wonderful:
Having a dining room that is well organized is not so easy because it's a room where people gather three times a day so it gets messy the most but that does not mean that you have to let it be like that. Organize all the things in the best way so that it can provide you and the guests with a wonderful look, a good room can provide the individuals mind and eyes with peace so go for a room like the one that you can see in the picture. This dining room is well organized and absolutely stunning as orangish brown is looking great in the dining room.
A good room that does not have to be too fancy or should not contain too many items, a good room is the one that has a sophisticated look and the things that you need only. Like you should not have 12 chairs in the room when all you need is 4, choose all the best furniture for your dining room and chose wisely so that you can enjoy your meals with the best. A lot of furniture does not look good, all it do is make the room look messy, can you see a sophisticated dining room in the picture, such rooms look great.
When it comes to the dining room, a modern dining room is such that you can see in the picture. White is a color that has its own grace, it looks excellent in any room, even if it's a dining room. White is eye catching and it makes the room bright, the room appears good when white is chosen for the room. Here you can see white chairs along with a table in the picture, isn't it looking just a perfect thing for the dining room. Such dining rooms are graceful and lovely too, so try making your dining room like this.
A dining room should be a room that has perfection in it, so whenever the guests are served here they appreciate the way that how you have managed it. A lamp hanged over the table, some scrivener and a mirror with a rug that is printed that's all, all the perfect things are already placed. When you have these things in the dining room than nothing else is needed, see the picture that how a room will look with these pictures and how to place them in the dining room. You can have a lot of ideas through the picture.
Wow, here is another unique idea for you for having a modern dining room. Can you see scenery on the wall of the dining room with a plate of fruits in it and some plants placed in the corners, for perfect lighting a lamp is also placed on the table? Matching sofas with the scenery is another great thing. It's a perfect room so who would not love to have such a perfect room. A dining room that has all the best furniture and a mint green combination that provides the eyes with coolness, it's a perfect dining room that anyone could ever have.
If you have too many guests that come to visit you so you can have a bit fancy dining room like the 8one that you can see in the picture, such rooms looks best for serving the guests. For inspiring people, it's another great way that you can do. Choose all the best chairs and table because in a dining table, it is the most important thing.  The lamp on the top of the room is looking just marvelous; people always have a desired to have such a room because it's beautiful. If you want an amazing dining room, then see the picture and pick ideas from it.
Here in the picture, you can see another great dining table with a lot chairs so that a large number of people can enjoy their meal at the same time. This room is best for the people who have large families, place candles on the table so that you can also be able to enjoy candle light dinner in your best dining room sometimes. This room has a lot of mirrors; you can also use this idea for making your dining room a modern and a good one. A dining room should be stylish as well as comfortable so that you can enjoy different foods in comfort with your loved ones.
These chairs with printed green stuffs look best and the stylish lights on the top of the table is not less than the cushions, it's such a comforting dining room that you can see in the picture, try making your dining room like this so that it can look amazing as the one in the picture is looking.
Here you can see a quite simple room but still it is looking quite great, you can see a small rug beside the table in simple touch. Having a simple but a great looking room is also a great idea. You can place simple table and chairs in the best way so that the room can look great. place fruits as well so that it would give the glimpse of a room where you have meals.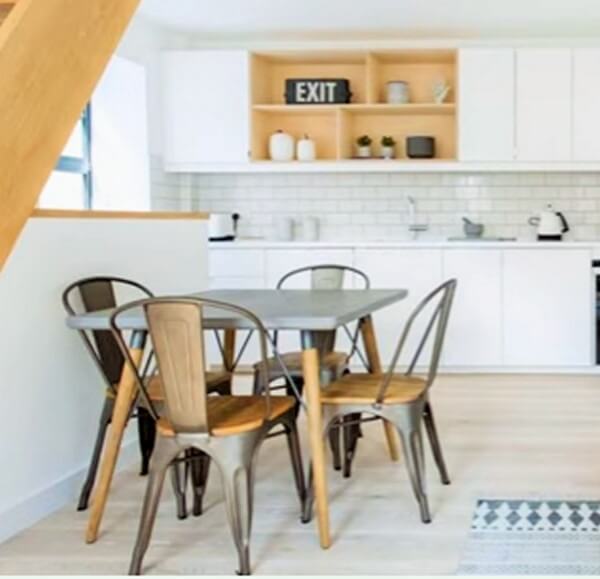 A room without plants and a table with vases are incomplete, the best room must have a plant in it. Plants can increase the beauty of the room, here in the picture this room is also a simple one but have a marvelous look because of the best setting of the objects, try such lavish ideas.
People usually have simple dining tables in their houses, but if you are a rebel then its time to change this trend as you can place a desk table around two or three chairs only. The simpler the room will be, the amazing it would look as you can see in the picture below.
Have you ever thought of placing a zebra printed rug under the table, here in the picture you can see a stylish table which at one side of it have a wooden bench and on the other side of it, it have chairs. A simple plant is also placed on the table and it is looking pretty amazing.
A totally flat table is also worth giving a try this time in your home, here in the picture you can see a big flat table with only two chairs around. It is not necessary to have a lot of chairs around the table, only some also look sophisticated and if you don't need a lot then don't need to place them. You can see that the decorative pieces behind have the same color combination as the table and the chairs have.
Here in the picture, you can see a room that has a lot of white in it. The paint of the room is white, the color of the cabinets is white, apart from that the whole furniture is white, only the plant on the table is colored and the whole room is looking glamorous. It is such a bright room and is best for the breakfast.
Here in the picture you can see a room with a lot of white and black in it but the flowers are colored and they are looking truly pretty this way. Having rooms with simple colors are the best, apart from choosing too much colors to go for in a single room, try this. Simple rooms and colored flowers both have their own grace, which any other thing can not beat. So go for such ideas and make your room worth spending time in it, every room is special so make it that way.