How To Turn Wooden Pallets Into Beautiful Wooden Furniture
Wooden Furniture sometimes we get bored with the rooms we have in the house, the reason is there is nothing new to look at. Even if we buy new furniture, we can buy the same old design. When it comes to making the room interesting with the furniture, then don't spend loads of money on it.
You can make interesting furniture from the wooden pallets all for free. Wooden pallets make amazing furniture pieces, this furniture is unique as well as cost-effective. You can try anything that you have seen on the internet and find interesting.
Here is the best furniture for making ideas for you:
 You can see a double bed that has been made all from the wooden palette, the bed has been made first and then colored. You can see how this double bed is complementing the room. Can you see the kid having fun in the room? If yes, then make the bed for your kid as well.
Wooden Pallets Into Beautiful Wooden Furniture
Now this picture has wooden chairs that are made from the wooden palette, the chairs have then been painted in sea green color. See green colored chairs look best, you can see in the picture that the flowers on the sides are also chosen to be planted with the combination of the chairs.
Now, this picture has a lot of wooden furniture, you can see tables that are make from the wooden palette and you can see a long chair that has been from the palette. Both of the things the table, the chair are looking quite marvelous together.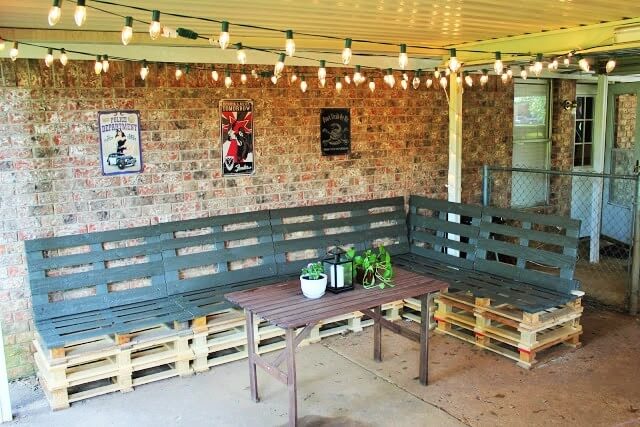 Here in the picture, you can see a room that has a lot of quotes on the walls, but what's making the room special is the furniture. The double bed that you can see in the room is making it one of the best rooms of the house. Having a bed that is comfortable can make your day, so make this wooden bed now.
This picture has something like a dressing table, but it it's not a dressing table, it just have the design of that. The table is adorned with flowers; you can place this table in the lawn of the house, if you want to place flowers on it. Instead of flowers you can place many other things as well.
Here in the picture, you can see a table in which vines bottles are placed. The table has been made from the wooden furniture and then painted in sky blue color. You can also make this easy table that has been made from the wooden palette and you can place it anywhere in the house.
Here you can square sofas and in the center of them, there are square tables with blue color cushions. Making such items like a sofa or a table that has been placed in the center is not hard; you can make these things easily and rock.
Source
Do you know that from the wooden palette, you can make instant coolers as well? Just like the one that you can see it in the picture below. Isn't it an amazing idea for saving loads of your money, try making such things and see how amazing they would work, these items will just amaze you.
Here in the picture, you can see a sofa that has an attached container with it. You can use the square as a container and you can also use it as a table. This is a two in one table along with a perfect size sofa on which the cat is sitting and enjoying.
This picture has a single sofa with a lot of cushions on it, don't you think this is the best perfect one for your lounge. If yes then start to make it right now because the perfect sitting object has been make from the wooden palette and it's fascinating.
In this picture, you can see a very stylish table along with a wooden floor as well. Both of these things are made from a wooden palette. These things give them a try as they are easy and you can make them with some days and that too free of cost.
DIY pallet furniture using wood pallets
Here you can see a sofa type of swing, if it has legs it would be a sofa, but as it has chains joined to the rod, it has become a swing. For placing in the outdoor area of your house for sitting, this chair is the best thing. You can see that the purple cushions are making it marvelous.
Here in the picture, you can see a simple wooden sofa for two. If you have a small family then this sofa is the best for you. If you have a lot of members in your family then you can make two or three of these sofas as well. Try different things and enjoy making the best.
Now, here in the picture, you can see another cooler stand. This is a perfect cooler that you can carry with you as well if you are a traveling lover. You can make a big one as well if you have a lot of things to restore.

This picture has a bed come to swing, you can use this flat wooden furniture as a bed and you can use it as a swing as well. It would be quite easy and just flat wooden plates are joined to each other nothing else has been done or no special technique is needed to make this.
Source
Here in the picture, you can see a wooden box just like a trunk. You can use this box as a trunk and as a table as well. You can use such things for any purpose, making them needs no special effort but creating such things from your own hands is fun.